Introduction to the PES Amazonian cubensis
The PES Amazonian is also known as Amazon or PESA. This magic mushroom strain is a psilocybe cubensis, a species of psychedelic mushroom whose main active elements are psilocybin and psilocin.  
The p. cubensis species is the most well-known psilocybin mushroom because they have been widely distributed and they are easy to cultivate with magic mushroom grow kit
All about the Magic Mushroom Grow Kit Amazon XP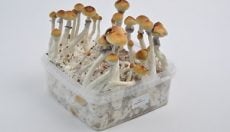 The PES Amazonian, a prolific fruiter, this cubensis is famous for it's growing speed and potency. Before you know it, the PES Amazonian magic mushrooms will pop up on you.  Not only is it fast; the PES Amazonian also produces large flushes.  At The Magic Mushroom Shop we have brands of Grow Kits: Freshmushrooms and the Standard Grow Kits.
The history of the PES Amazonian magic mushroom
The name came from Pacifica Spora a company that was the first to develop this strain that was found in the Amazonian jungle.
This strain is ideal if you are looking for that authentic psychedelic experience.
Characteristics of a Magic Mushroom Grow Kit Amazon XP
You can expect big and fleshy magic mushroom with an average height over six inches, some even hitting the 12 inches!
The caps often have a pronounced nipple in the center and diameter can go from one to two inches with convex to plane surfaces when it matures. When they start to form, the cap color is dark red, as it matures, the dark red will only remain in the middle of the cap.